WordWeb Blog
Everything reading, writing, publishing, and creating for people who love books.
From Market Writer

"How to get my book published?" is the question on every aspiring author's mind and lips. After spending days, months or even years penning down that great story, an author hopes that publishers will be more than happy to take up the manuscript and turn it into a bestseller but sadly, that is hardly the reality. In the real world, one may face few or countless rejections before finally striking a fair deal. Getting a book published takes time, effort, persistence, smartness and patience in equal amounts. Here are 3 tips which will help you getting your book published faster:

Write What You May Be Interested To Read

A publisher's main motive is to make money out of books and the only way to ensure this is to publish books that will interest readers and fly off the book shelves in right numbers. Hence, for you to grab a publisher's attention, it is absolutely necessary that the content you are offering is interesting, unique and capable of indulging a reader's mind or imagination. Firstly, it is most important that you write from your heart and not out of other's books. Forgery is unacceptable. An author becomes successful only if he/she offers something to the readers that they have never read before. Hence, it is extremely essential that your work is fresh and has a unique identity. Secondly, when writing a book, you need to think from a reader's perspective as well. Always write something that you will yourself be interested in reading.

Welcome Feedback

Keep your work open to scrutiny and criticism. Accepting criticism in a positive manner will help you better your work after every rejection and will increase the chances of acceptance with the next publisher you will approach. Be receptive to constructive feedback and use it to make your work more admirable and interesting.

Harness the Power of Social Media

Social media is more powerful that you possibly know. A publisher is more likely to publish your book if you have thousands of followers on your Facebook and Twitter pages. Having popular social media accounts indicates that people enjoy what you write and that your work grabs people's attention desirably.

All you need to do is set up your social media accounts and share snippets of your works with the world. You can also share short stories or articles. Actively respond to readers' comments and initiate discussions. You can also follow other authors to know what they are doing better than you. More the number of followers on your social media accounts, better the chances of you getting published!

---
Powered by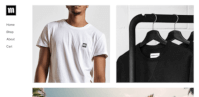 Create your own unique website with customizable templates.
Photos used under Creative Commons from Helga Weber, slightly everything, Patrick Feller, jeronimoooooooo, Nina Matthews Photography, hj91, PhoTones_TAKUMA, mrsdkrebs