WordWeb Blog
Everything reading, writing, publishing, and creating for people who love books.
by Catherine Rayburn-Trobaugh: President, Word Branch Publishing

Whenever I get to the editing stage of a project, the voice of author and critic, Arthur Quiller-Couch, seeps into my consciousness and whispers a nefarious suggestion: Murder your darlings.

No, I'm not having a psychotic break due to the stress of writing; I am following sound revising and editing advice. Murdering your darlings refers to the ruthless drafting a writer must do to create readable and relevant copy. I am talking about cutting out those wonderful phrases and words that you think are witty literary prose but simply don't belong.

Murdering your darlings is probably the most difficult part of the creative process. It forces us to take a hard look at what we have written and make honest assessments. When I teach writing courses, this is the part that causes both anger and agony for my students. I'm sure to get the death glare from a student when I suggest that striking a phrase may make the writing better.

With practice it becomes easier to mercilessly slaughter the words we love best. The more a writer produces, the more he or she realizes that there will always be another short story, novel, poem, or essay. There will always be another outlet for the prized phrases and sentences that need to be excised from the current piece. And while I'm not encouraging hacking writing to the bare bones, I am suggesting that the "less is more" policy is often the best way to go.

The plain fact of writing is that there will always be always be editors and teachers who will gladly hand you a scalpel and encourage you to slice and dice your favorite work. Believe it or not, they have your best interest at heart, and their distance from the writing gives them the perspective you may not have. I advise writing students to put their projects away for at least a week. When they've put some distance between the intense emotion of fresh writing and the coolness of rewriting, then the darlings aren't quite so dear and banishing them is not quite as difficult.

Writing is messy business. It requires both passion and indifference; obsession and distance. Murdering your darlings is hard and painful work, but good writers get their hands dirty and great writers, excuse the grisly metaphor, get them bloody.

Although you may use this advice freely, the writing is copyrighted and cannot be reproduced without the explicit permission of Catherine Rayburn-Trobaugh (catherine@crtwriting.com).

---
Powered by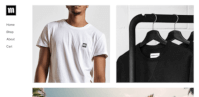 Create your own unique website with customizable templates.
Photos used under Creative Commons from Helga Weber, slightly everything, Patrick Feller, jeronimoooooooo, Nina Matthews Photography, hj91, PhoTones_TAKUMA, mrsdkrebs