WordWeb Blog
Everything reading, writing, publishing, and creating for people who love books.
by Catherine Rayburn-Trobaugh: President, Word Branch Publishing

If you are a native speaker of English, then you probably intuitively conjugate verbs without really knowing why they are used in certain ways. It wasn't until I moved to Ecuador and started learning Spanish that I really began to understand English conjugation. English, however, can take some odd twists and turns, and if you are like my friend Cyndi, it may occur to you that some just sound funny as it did when she was struggling with a past perfect verb tense issue.

But perhaps none sounds as funny as the subjunctive mood. I've seen many confused expressions, as well as heard gleeful chortles, from people who were sure that I made a grammar snafu when I used the subjunctive mood. I certainly do make my share of mistakes, but not this time.

The subjunctive mood is used when something hasn't happened; it is a hope or desire. If the verb is not a form of 'to be' then simply use the past or past perfect tense; however, the confusion comes when a form of 'to be' is used in the subjunctive mood. In that case, substitute 'were' for 'was.'

• I wish I were on vacation.

• If I were only richer, I would go on vacation.

• If I were you, I would go on vacation.

Besides showing that I obviously need a vacation, these are the phrases that raise eyebrows. I agree that in some circles it sounds snooty, but I can't bear to break the rule for the sake of acceptance.

The subjunctive mood does have honest roots. Scholar LM Berk theorizes that it comes from old English but it is being used less as time passes, and others believe that it is fading from use completely.

I wish that weren't true.

http://owl.english.purdue.edu/owl/resource/539/07/http://www.ceafinney.com/subjunctive/excerpts.html

---
Powered by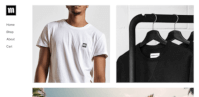 Create your own unique website with customizable templates.
Photos used under Creative Commons from Helga Weber, slightly everything, Patrick Feller, jeronimoooooooo, Nina Matthews Photography, hj91, PhoTones_TAKUMA, mrsdkrebs