by Danny Estes
---
"Vampires are a major pain in the butt. I'd heard the stories and seen Hollywood's versions like all kids, but assumed they were fictional characters, created by humans to frighten children while they amused adults. I must say, after dealing with the smelly things I wouldn't mind eradicating them. However, Jasmine convinced me they're a necessary evil, that the filthy creatures actually keep were-animals in check and vice versa."





"Mr. Baker, pacing will only make you uptight, so please, will you lie down and sip your wine?"





"Hmm? But how am I to express my feelings lying down?" When Dr. Haskin merely motioned to the couch with his pencil for the third time, I relented. "Oh, very well."





Once I lay on the couch, the human doc instructed, "Now, let's begin at the beginning."





"As you say, um … okay. Were-animals were created in antiquity by devil worshippers; specifically by an Egyptian priest from Lower Egypt before the lower and upper—"





"Mr. Baker, that's a bit too far back."





"Hmm? Oh, a—so where would you like me to start? With Attila the Hun or Shalmaneser I, King of Assyria?"





"Perhaps when you met your mate?"





"Isn't that a bit recent? Wouldn't it be better to explain the distant past, so you can understand why our ancestors manipulated the wars of men, or why the females created prostitution?"








---
Jonathan always knew he was different. How could he not be with a werewolf father and half were mother? But he didn't know how different until he met the beautiful and mysterious Jasmine who introduced him to her Pack. In this world where the females were dominant and the males submissive, Jonathan didn't quite fit in with his desire to protect his mate and his unusual aggression—very unlike the other male weres.

When Jasmine starts working for a group of odoriferous vampires, Jonathan can no longer hold back his nature, and the results are explosive. As he suspects, the vampires' intentions are as foul as their stench, but his efforts to save his mate are thwarted, and his quest to destroy the vampire colony leads him to discover dark secrets about himself.



---
Contact the writer with your comments and questions.

No e-reader? No problem.
Click here to download a free app for your electronic device.


---
Powered by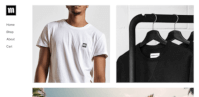 Create your own unique website with customizable templates.