by

Ndiritu Wahome
---
Paperback $14.99

The artist sat on a hill overlooking the city and deep within him, he was sad. Didn't he behold men commit injustices, unholy acts that ruined the lives of many and made them a living hell? He saw many things, but as he sat on the hill, he chose to ignore them and lie on the green grass.
"Why are you so sad, master?" purred the kitty.
"I think that the artist is in love," said a song bird that perched on a nearby branch of a yew tree," but doesn't he listen to music and read poetry, for musicians and poets do sing and write about love and the things it makes one do?"
"I don't think he is in love, "replied the soft green grass that the artist lay his back on, "I think that he has read a lot of philosophy, literature and the arts, and his mind has grown in a way that he sees so much ignorance in men, and possibly that is why he contemplates on how one can make this world a better place."





---
In Ndiritu Wahome's first published book, he charms, tantalizes and engages his readers with a collection of fairytales for all ages. From a story-telling weaver bird to a chief's son who finds the real value of life, Wahome leads his readers on a captivating journey that deifies time and reality yet remains relevant.

Wahome says his "objective was to create fantasy stories, which were infused with realism in the hope of letting young children know that even though life is full of hardships, they can overcome and achieve anything they so deemed." But peel back another layer, and The Sad Artist and Other Fairytales has a strong message that reveals "bad leadership, appalling politics, sloth and corruption" that Wahome says is too often found in contemporary African governments.

"The Sad Artist is magical realism at its best. Wahome's fairytales are in the tradition of Salmon Rushdie, Gabriel Garcia Marquez and Ben Okri," says publisher Catherine Rayburn-Trobaugh. "Ndiritu captures the innocence of the world through a child's eyes to make strong statements about the modern condition."

Although the fairytales are set in a mystical version Wahome's native Kenya, they transcend Africa for a global perspective on the realities of life in the 21st century at the crossroads of old and new. Although Wahome's fairytales can sometimes be cautionary, he never loses hope for both humanity and its future. His world is one that "The wicked, who seem to live the good life, in the end, suffer in their demise. The good, even though exposed to a life of poverty, wretchedness, and solitude, end up living happily ever after."



---
Help Ndiritu get enough books for his launch at the Storymoja Hay Festival in September. Word Branch is sponsoring a Kickstarter campaign to help get books to Africa for Ndiritu's book launch.

Click here to find out how you can help.
---
Contact Ndiritu with your comments and questions.

Available for Amazon Kindle

No e-reader? No problem.
Click here to download a free app for your electronic device.


---
Powered by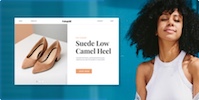 Create your own unique website with customizable templates.