by Ndiritu Wahome
---
There are folks in Mombasa, who claim that there are dark spirits, which reside under the Indian Ocean. These spirits take the form of different creatures including beautiful women, and men, mermaids, cats, and ravens, and that they feed on blood; and that if one evokes, praises, and offers blood sacrifices to them, one is given mystical powers, and that one can get what one wills. These spirits are formally known as Majini, and people who visit the coastal city of Mombasa, hear countless stories about them. They are those who claim they are the children of the devil himself, these spirits, and that when God banished Satan from heaven, he fell into the sea, and here he started his own kingdom of monsters, while others hold close to their hearts that these spirits are good, and can bring fortune to one, as well as immerse riches, fame, and wealth, and many politicians, businessmen, and famed artists have taken to them, but at a dear price. One has to offer ones dear love, as a form of sacrifice. This can be from ones parents, children, or worse ones wife.

Now these stories to some people represent a reality, while to others mere absurdities. Kamaa had heard all about these stories, when he settled in the coastal lands twenty years ago, but for he was a man of science like his wife, he disputed all these stories and thought them very prosaic. Yet now as he sat under the sea paralyzed, still breathing, and without any injury in his body, a new form of surreal world revealed itself to him: one of total horror, and torment.






---
Author Ndiritu Wahome masterfully interjects African folklore into contemporary reality for a poignant, heart rendering and sometimes brutal picture of his native Kenya. Staying faithful to his signature genre, magical realism, The Girl with the Flawless Face is a collection of short stories that captures African legends of mermaids and magic, Majini, and layers them into the lives of realistic characters and events.
Faced with the very real horror of terrorism, governmental repression and religious extremism, the Majini represent fears personified. The use of magic and the mystical gives the characters a vehicle for expressing the dread they may not be able to articulate in day to day life.
But Wahome's Kenya is also magically beautiful. Set in the backgrounds of breath-taking beaches, emerald rainforests and sparkling ocean waters, the characters are, both young and old, painted as living reflections of the landscape.
---
Contact the writer with your comments and questions.

No e-reader? No problem.
Click here to download a free app for your electronic device.


---
Powered by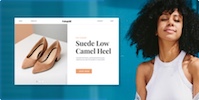 Create your own unique website with customizable templates.