Matt Danger Stares is a comedy writer/actor from Portland, Oregon. Matt offers his audiences dry, satirical and abusurdist delivery through his blend off-the-cuff humor. After working as a musician for the last 10 years, at 29, Matt has observed and speculated on more people than he would care to admit and has listened to and lived tales of heartbreak through his adventures both on and off the road. Offering his perspective through a genuine yet snarky brand of influence and imitation, Matt dares to put to voice and word what few people are willing to admit.
Refocusing his efforts on comedy and writing while finishing up his education at Portland State University with a bachelor's degree in Communication, Matt is simultaneously releasing more albums and comedy videos while working to publish his first book,
Extremely Successful Book,
a collection of short satirical essays through the wholesome people at the Word Branch family.
Matt now resides in a quiet landscape of Portland and occasionally can be seen landing his personal dirigible at an undisclosed airfield with peculiar women during the equinoctial night. Matt is divorced and has one child, his daughter Allora Lee Stares, age four, and really enjoys a good batch of English muffins!
Title:
Extremely Sucessful Book
Read about Matt in the
Vanguard Newspaper
---
---
Powered by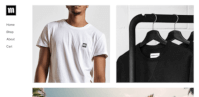 Create your own unique website with customizable templates.