by Julian Norwood
---
"You gave off a weird aura just then. Never quite felt that one." She arched a brow at me.
"Dunno what it is. It's a thing." I shrugged. "Like…being lost, or having an out of body experience. It's kind of…" I waved my hands around and hoped she would understand. Her expression said she did not. I sighed. "It's weird… It just happens a lot."
"Well, it's not the color of teenage angst. It makes your aura more purple and blue, and gives off a feeling of sorrow and longing and melodrama." She touched her temples and said this in the most psychic way she could manage. "You should take tea of the—"
"You sound like my mom."
"Okay, you should get outside the house and get some more sunlight and maybe go do something active or productive sometime?"
"You still sound like my mom."


---
Julian Norwood's first published novel has a rare combination of stark reality and believable fantasy. Dealing with real world issues of transgender teens, acceptance, and family crisis, Norwood draws the reader in using supernatural forces as a subtle metaphor.

Forsaking Magic is a poignant coming of age story set in a world where a portion of the population is born with a supernatural ability like magic or shape-shifting. Although not illegal, those who have abilities must keep a low profile to avoid public scorn. This is no ordinary young adult novel however. The core of the message goes much deeper as the teens in the book struggle with identity ranging from accepting their magical abilities to sexual identity.

The vehicle for framing the issues in Forsaking Magic is the protagonist, a teenage girl named Abby. She is not only faced with her own trials of dealing with her magical skills and identity conflicts and the impact they have on herself and her family, but she is also the witness to teens' and parents' struggles to find acceptance and stability both within the family units and in society.

Norwood's writing skill and sense of story shouldn't get lost in the message in Forsaking Magic. The novel is well crafted both in story and execution, and it is neither apologetic nor zealous. His description of the places and people is both touching and humorous, and the dialog feels genuine. In the end, Forsaking Magic is a well-told tale.


---
---
Contact Julian with your comments and questions.

---

No e-reader? No problem.
Click here to download a free app for your electronic device.


---
Powered by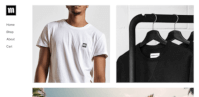 Create your own unique website with customizable templates.